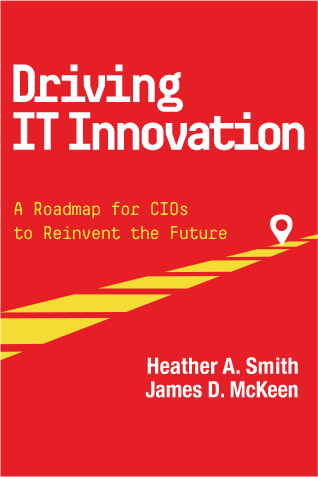 Product Details
Paperback | $24.50 | ISBN 978-1-943153-64-0
E-Book | $15.99 | ISBN 978-1-943153-63-3
November 6, 2018 | 256 Pages | 6 x 9″
---
Contents
Introduction
Section I. Opportunity Drivers
Chapter 1. Artificial Intelligence
Chapter 2. The API Economy
Chapter 3. Emerging Technologies
Section II. Discovery Drivers
Chapter 4. Thought Leadership
Chapter 5. Digital Strategy
Chapter 6. Experimentation
Section III. Delivery Drivers
Chapter 7. Redefining IT Governance
Chapter 8. Managing IT Disruption
Chapter 9. DevOps
Index
Driving IT Innovation
A Roadmap for CIOs to Reinvent the Future
---
---
About the Book
Why do many great IT departments fail at innovation?
The astounding speed of technological progress and evolution is pushing some companies to the front of the pack while leaving others playing catch-up. Information technology (IT) professionals are on the front lines of this battle and, in order to win, they must develop the capabilities and leadership mindset to innovate and thrive in the digital world.
Driving IT Innovation is a practical blueprint that IT executives and managers can use to learn how to propel innovation through IT. Two of the leading academic experts on IT provide a detailed examination of the three stages that drive innovation—opportunity, discovery, and delivery—and how IT departments can support initiatives in each phase. Through extensive interviews and interactive sessions with senior IT executives and managers from leading-edge organizations across a variety of industries, the authors distill best practices and guidelines for successful IT innovation.
---
Praise for Driving IT Innovation
"As a CIO focused on transformation, I found the content in this book extremely relevant and actionable for developing IT talent. It succinctly addresses the mix of skills needed to be a successful technologist in today's fast-paced business climate."
— Julia Anderson, Global CIO, Smithfield Foods
"What an informative read. This book is truly for IT practitioners trying to find the right mix between innovation, strategy, and "keeping the lights on." The recommendations have been thought through from all angles and can be applied across a broad spectrum of industries. I highly recommend this book to anyone trying to leverage IT to generate business value."
— Vineet Gupta, CIO Luxury Brands, AccorHotels
"Innovation has become the primary driver for organizations to handle disruption – fending it off or doing the disrupting themselves. But innovation itself is a tough nut to crack. In their new book Smith and McKeen have found the right nutcracker. Their logical blueprint for approaching innovation is an essential guidebook for IT organizations. This book, however, goes way beyond that. It should be considered mandatory reading for every organization that works with IT. Highly recommended!"
— Kelly Kanellakis, VP, Architecture and Ecosystems, Dell EMC
"This is one of those rare books that provides clear and concise understanding of the technology drivers of innovation and what actions to take to advance it. The practical recommendations based on real world experiences from IT executives comes through. This is a great guide for any IT organization wanting to be a strategic partner in taking their company to the next level of innovation."
— Bruce Leidal, CIO, Carestream Health
"The accumulation of information systems building expertise and information technology advances over the last half century have created a global innovation avalanche. All around the world IT innovation is changing everyday life. Every enterprise now needs an action-oriented blueprint for IT-driven innovation. Heather Smith and Jim McKeen provide the framework and insights for you to make a plan for an innovative future by drawing upon the insights they have gained from their extensive field research over multiple decades. This is a book to read carefully and consult frequently."
— Rick Watson, J. Rex Fuqua Distinguished Chair for Internet Strategy,
Terry College of Business, University of Georgia
---
---
Contact
For media inquiries, please contact Andrew DeSio at 267-987-3810 or andrew@fortierpr.com.