Beth Golub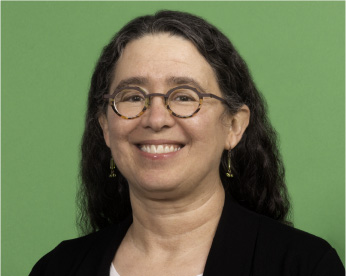 Beth Golub, President & Editor
---
Beth Lang Golub has worked in Information Systems textbook publishing for nearly three decades. She has always loved books. Her career as an editor, making books, has been a dream come true.
Beth earned her BA in English and American Literature (Magna cum Laude) at Brandeis University in 1983. She began her publishing career while still in college, with internships at The Boston Phoenix (a weekly alternative newspaper), and at Houghton Mifflin. After graduation she accepted a position as In-House Representative at Breton Publishers, a division of Wadsworth. She created and executed a telemarketing program covering 1500 colleges nationwide and earned a place in the 1986 President's Club for her sales achievement.
In 1987 Beth joined Wiley as a Publisher's Representative for greater Pittsburgh, Pennsylvania. She won Representative of the Year in 1991. Her achievements and dedication led to her promotion to Acquisitions Editor for Information Systems and Decision Sciences. Over time, she also gained responsibility for Business Statistics and Computer Science.
Beth won "Editor of the Year" in 1996, and then again in 2001. She was promoted to Executive Editor in 2000. Some of her most successful titles include Introduction to Information Systems by Kelly Rainer and Brad Prince, now in its 7th edition; System Analysis and Design by Alan Dennis & Barbara Wixom, now in its 7th edition; Operations Management: An Integrated Approach by Dan Reid and Nada Sanders, now in its 6th edition; Business Analytics: The Art of Modeling with Spreadsheets by Steve Powell & Ken Baker, now in its 5th edition; Python for Everyone by Cay Horstmann and Rance Necaise, now in its 3rd edition; and several more that are now part of Prospect Press's offerings.
In 2012, Wiley honored Beth with induction into the 25-Year Club. During her Wiley career, she attended 54 Wiley sales meetings, and over 100 conferences around the world. A highlight of her conference year has always been the Americas Conference on Information Systems (AMCIS), at which she has represented her books all but one year since its 1995 inauguration in Pittsburgh. The mug from the inaugural conference currently holds pens on Beth's desk.
In 2014, Beth and Andy founded Prospect Press to serve the Information Systems curriculum. This includes upper-level, emergent, and elective courses, as well as creative, well-written texts for introductory courses. This company mobilizes Beth's breadth of experience and skills, from in-house sales to acquisitions and editorial management, to advance the Information Systems field and its pedagogy.
Beth's hobbies include pottery, Brazilian Carnivale drumming, and reading history, fiction, and back-to-the-land books. She also enjoys Scrabble, and movies about time travel. Some of her favorite Vermont activities include hiking, skiing, and listening to live music with Andy and their two kids in their twenties, Abby and Milo. Beth has hiked all 48 peaks over 4000-feet in the White Mountains of New Hampshire. She climbed her first peak over forty years ago and completed the list with Owl's Head in 2016.